Highlights:

Andy Pregame

Andy Postgame

Recap:
Senators blow big lead, edge Flames in shootout
Monday, 03.09.2015 / 12:00 AM
Chris Stevenson – NHL.com Correspondent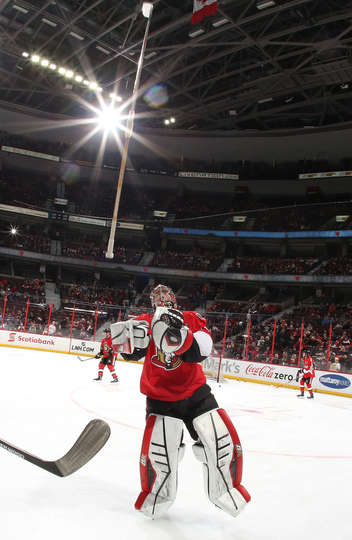 OTTAWA — The Ottawa Senators blew a four-goal lead in the third period but still earned two points with a 5-4 shootout win against the Calgary Flames at Canadian Tire Centre on Sunday in goalie Craig Anderson's return to the Ottawa net.
The Senators led 4-0 with a little more than 13 minutes left in the third, but the Flames got a goal from Joe Colborne at 6:56 and then goals 59 seconds apart by Kris Russell on the power play and Mikael Backlund starting at 11:28 to make it 4-3.
Russell tied it with a wrist shot from the slot with 2:18 left in regulation, completing a four-goal comeback in the final period of the Flames' seven-game road trip.
Senators captain Erik Karlsson beat Flames goalie Jonas Hiller to the glove side in the sixth round of the shootout, then Anderson stopped Josh Jooris with his blocker to give Ottawa the win.
"I don't think we played our best hockey for any part of the 60 minutes, even though we got a 4-0 lead," Karlsson said. "We let it slip away from us due to fatigue, but at this time of year, everybody's tired. It's not an excuse, and if you want to be an elite team, these are the games you've got to close out. You've got to know how to play under pressure when you're tired."
Anderson made 42 saves through regulation, then denied four of six Flames shooters in the tiebreaker in his first game since Jan. 21, when he sustained an injury to his right hand against the Toronto Maple Leafs.
The Senators (30-23-11) won for the eighth time in their past nine games (8-0-1). They are 10-1-2 in their past 13 games and five points behind the Boston Bruins for the second wild-card spot into the Stanley Cup Playoffs from the Eastern Conference.
The Senators host the Bruins on Tuesday.
The Flames (36-25-5), in a tight playoff race of their own, went 4-2-1 on their road trip through the Eastern Conference. They are two points ahead of the Los Angeles Kings for third place in the Pacific Division.
"We're still missing a point. But at the same time, looking at our situation, we leave with a point here … let's leave the building before the OPP (Ontario Provincial Police) shows up," Flames coach Bob Hartley said.
Senators coach Dave Cameron opted to start Anderson over Andrew Hammond, who went 7-0-1 in his first eight NHL starts after Anderson and Robin Lehner (concussion) each sustained an injury.
Anderson made some big saves, but, like the Senators as a whole, he was overwhelmed when the Flames started their third-period push.
"We give him lots of work. I thought he was real good. Real, real, real good. It's good to see him back, see him healthy again," Cameron said. "I hope he's not allergic to rubber. He'll be dead."
Goalie Karri Ramo started for the Flames but was pulled after giving up four goals on 23 shots. He was replaced by Hiller, who made 19 saves through overtime.
The Senators looked like they had taken control of the game with a strong second period, when they doubled their lead to 4-0 on goals by defenseman Mark Borowiecki, his first of the season, and Mike Hoffman.
"Our defensive-zone coverage was just not there. We made mistakes that usually we don't do," Hartley said. "We missed some easy assignments.
"I felt we were a much better team than what we showed in the first and second period, then we bounced back. Credit to our players. That could be a point that, we never know, that could be a difference."
Borowiecki's goal came after some sustained pressure by the line of center Jean-Gabriel Pageau and wings Curtis Lazar and Erik Condra. His waist-high shot deflected off Calgary defenseman David Schlemko and past Ramo at 2:34.
Hoffman scored his 24th goal, which leads the Senators, on a strong wrist shot at 7:10. His shot from inside the right wing circle off a pass from Mika Zibanejad found the net over Ramo's left shoulder.
The assist extended Zibanejad's point streak to a career-high seven games (three goals, four assists).
The Senators led 2-0 after the first period on goals by Alex Chiasson, his 10th, and Milan Michalek, his 12th and the 199th of his NHL career.
Colborne, who said the message in the Flames locker room during the second intermission was "get the first one," started Calgary's rally with a shot that appeared to skip off the ice and beat Anderson to the stick side.
The Flames are 3-1-1 since losing captain Mark Giordano, who was getting consideration for the Norris Trophy as the League's top defenseman, for the rest of the season with a torn biceps. Giordano's 48 points are tied for second on the Flames.
Russell stepped up offensively against the Senators.
"If you told us we were going to get one point going into the third, we probably would have took it the way things were going," Russell said. "We're a resilient club. I thought this was a real good road trip. At different times, different guys stepped up, and we're going to need that going down the stretch."
Hartley said he likes the attitude of the Flames.
"The character we've built over the last years, it's really paying off in games like this. The guys after the second period they were like mad, disappointed with themselves, but at the same time there was that belief," he said. "That's something we've cultivated over the past months. Once we got one, it was electric on the bench. We had that sense that we would make it happen. We had them on their heels, and that's a huge point."