By Pierre LeBrun | ESPN.com
MONTREAL — Brian Gionta thought he had a sure goal near the end of the second period Thursday night, the Montreal Canadiens captain on the doorstep for a tap-in, only to be robbed by Craig Anderson.
The Ottawa Senators netminder did a lot of that last season, especially in a first-round series win over the Habs.
In one of Bryan Murray's most brilliant moves as general manager of the Senators, he acquired Anderson from Colorado in February 2011 in exchange for Brian Elliott. While Elliott has gone on to have some measure of success in St. Louis as a 1B to Jaroslav Halak, Anderson has been Vezina-like in Canada's capital.
[+] Enlarge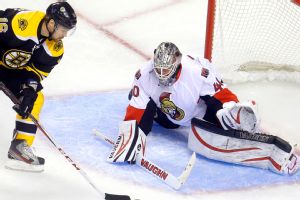 AP Photo/Steven SenneRobin Lehner played 12 games for the Senators last season, posting a 2.20 goals-against average and .936 save percentage.
It was a franchise-altering move.
"We were real fortunate to get a goaltender of Anderson's caliber in a trade, you don't often get a goaltender like that," Murray told ESPN.com on Thursday night at the Bell Centre. "That gave us a chance to do what we had to do with Robin."
Ah yes, Robin Lehner, the 22-year-old netminder finally breaking camp with the NHL squad after three years of tutelage in the AHL.
"It's my first season being up here from the start, it feels pretty good," the Gothenburg, Sweden, native told ESPN.com on Thursday night. "You kind [of] get to start a life. The last four years, I've lived with my suitcase from hotel to hotel. Now you have a base and you can start something."
There are some around the NHL that think Lehner is already starter material. Some also believe he's franchise-goalie material in the not-too-distant future.
"I do for sure," a rival NHL team executive said. "He has all of the characteristics, including a great run to an AHL championship [in 2011]. His compete [level] stands out. All he needs is more NHL experience."
All of which makes Ottawa's netminding duo arguably the most potent in the NHL.
Anderson, for one, might have won the Vezina last season had it not been for an injury that made him miss too much time to garner enough votes from NHL GMs. When he was healthy, he put up a ridiculous .941 save percentage along with a 1.69 goals-against average.
Anderson aims to pick up where he left off.
"Every day you go out there you want to prove something," Anderson told ESPN.com on Thursday night. "There's a lot to be proven every season. You're either growing or you're dying in this game. For me, I want to give my team a chance to win every night and, if I do that, the statistics and the accolades will take care of themselves."
While most NHL teams have to live with the fact that on 20 to 25 nights a season, they're giving a goal away by dressing the backup, one could argue the Senators will have a true starter in net for 82 games this season.
"The one thing we do know, they are both very capable, both can win games for us," Murray said. "That's a real strength for an organization."
Going back to the franchise re-birth in 1992, the Senators have always lacked that true, surefire elite No. 1; it cost them in their playoff series losses to rival Toronto, and you could argue it is the reason that a Stanley Cup eluded the club in the late 1990s and 2000s despite all the incredible talent that skated in suburban Kanata.
It was awfully important to Murray when he took over the reins as GM to fix that.
"Hopefully this time, with the two guys, we'll have a chance moving forward," Murray said. "But yes, Ottawa has had that struggle over the years. Which is why we tried to address it with the trade for Anderson and drafting Robin."
Anderson starts as the No. 1 guy, but those around the organization are intrigued to see how Lehner pushes Anderson. My sense is head coach Paul MacLean will ride Anderson early and often and make Lehner force his hand as the season goes on.
Is Lehner ready for the opportunity?
"He's had a great camp," Murray said of Lehner, drafted 46th overall in 2009. "He looks like he's taken another step.
"The one thing about Robin, when he first came in, he was in a hurry to get to the NHL. It would be a 'Why can't I be up there?' type of thing. He understands now the process of becoming a good goaltender in the league. He's had a great summer and it looks like he's really filled out, he's matured, and he's ready to be a good goalie in this league."
Those who aren't sold on Lehner wonder whether he has the temperament to be an NHL star goalie. Lehner says his time in the AHL helped his development immeasurably.
"I had a lot of things that I needed to work on from a technical point, from a psychological point, from an attitude point of view, everything," said Lehner, a 6-foot-4, 223-pound behemoth in net. "It's a process you have to go through. It's a tough league, it's a lot of pressure, and if you're not ready you can break down on a lot of levels. Ottawa has done a great job of that in helping me get better every year."
What will be new for Lehner is beginning the year as a backup. But he welcomes the chance to maximize his opportunities.
"You take the chances you get," Lehner said. "It's all about winning. I'm going to try to do that when I get the chance. I know Craig will do that, too."
Not every netminder loves being "pushed" in net by his tandem mate. Some goalies are peculiar lads, indeed. But Anderson, a likable veteran who has traveled a tough road to gain his well-earned respect around the league, says he's fine with it.
"You need to be pushed," Anderson said. "When you find that comfort zone in your career, when you get in a situation where you're [too] comfortable, you get bitten, you get bitten hard. I learned that once. I choose not to learn that again."
Anderson was referring to 2006 when he was waived three times from January to February, going from Chicago to Boston to St. Louis back to Chicago, trading hands like a bag of popcorn.
"I got comfortable and just accepted being the second guy, didn't feel like pushing [Nikolai] Khabibulin at all," Anderson said. "I had to take a step backward to take a couple of leaps forward."
An obvious strength in Ottawa this season will also be fascinating to watch, as the kid pushes the vet. It's a situation the Senators have dreamed of for a very long time.
Full Article:
http://espn.go.com/blog/nhl/post/_/id/26781/look-for-the-kid-to-push-the-vet-in-ottawa